Welcome to Delaney Development, Inc.
Beginning in 1959, Delaney's developed Springdale Plaza, the largest regional Shopping Center of its time; which still exists today in the form of Springdale Mall located at the intersection of Interstate 65 and Airport Boulevard in the heart of Mobile. For over 50 years since, our companies have developed, owned, managed, leased and sold some of Mobile's finest projects. We have owned and owner managed over 2000 apartment units, shopping centers, and sold our exceptionally located lands for other major Mobile development projects such as Lowe's, Wal-Mart and CarMax. While Mobile is our home, we have other holdings throughout the State of Alabama, and in Florida, Mississippi, Montana and Wyoming. In addition to residential and commercial developments, we are invested in timberlands, which we manage with a view toward not only producing the finest quality forests for wood products, but also for a balanced wildlife habitat thereby creating excellent recreational properties for lease or purchase.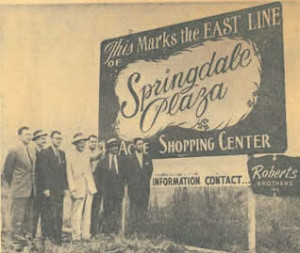 As with any business, most success is built through great relationships. With a solid reputation for excellence, we have been able to create many lasting relationships with customers of our residential communities, timber and commercial properties. We strive to provide our customers with quality properties and management services at the best locations, and we strive to provide the best timber holdings, yielding recreational lands and forestry products of the highest standards.
Whether you are looking for a place to live, a place to enjoy the outdoors, a place to develop your business, or the place to acquire the best timber products, let our expertise, resources and vision help you find something that is just the right product or location for your needs.
Build-to-suit and Ground Lease Developments
Our company offers a combined development resume of retail as well as apartment units in Florida. We look forward to letting our experience lead the way. In addition, we have worked on countless renovation projects in both retail and residential areas. Our services include:
Build to Suit
Raw Land Entitlement and Development
Single Family Residential Development
Multi-Family Development
Strip Center and Mixed Use Development
Multifamily Residential/Apartments
We currently have residential lots for sale in Alabama and Mississippi and would be happy to help make your dreams of becoming a homeowner a reality. In addition we manage apartment communities in Alabama and Florida with a wide variety of floor plans and amenities, beautifully landscaped grounds, professional on-site staff, just to mention a few. From the minute you visit one of our communities you will notice our commitment to quality living.
Shopping Center Developments, Management and Leasing
We believe in hands on management that includes open communication with clients and tenants. Our property management services offer the following:
Tenant relations.
Rent and other monetary collections.
On site property inspections.
Review of insurance policies.
Review of real property tax assessments.
General lease administrations.
Tenant insurance and HVAC certificates.
Payment and management of vendors.
Monthly, quarterly and yearly accounting reports.
Land Sales, Leasing and Acquisitions
Over the last 50 years, we have been involved in many commercial and residential developments. We have owned, developed and managed shopping centers, apartments, retail strip centers and warehouses. We have also worked with and helped locate lands for some of the largest names in the hotel, retail and home improvement industries. Land acquisition and development has and always will be an important role in the growth of our Company. We are currently acquiring residential, commercial and timberland properties throughout the Southeast. It is our continued goal to create attractive and productive developments that are of great long term benefit to the people of the community.
Timberland Property Leasing, Sales, Acquisitions and Management
Why invest in timberland?
Our company currently manages thousands of acres of timber.  Timberland has a strong reputation for superior earnings, portfolio diversification and risk reduction, which makes it an appealing addition to one's portfolio. However, asset worth comes not only from the land, but the quality of the timber. In fact, the value of the timber often exceeds that of the land. That's why it's crucial to have timberland experts involved in the entire decision process.  If you are looking for a timberland investment for the long or short term, let us help you with this process. Our seasoned consultants bring a wealth of knowledge that comes from years of handling a variety of management objectives.
Forestry/Timber Sales and Services
We are dedicated to exceptional timberland investment and management. We bring over 25 years of veteran experience and our goal is to grow quality forest products on a saw timber rotation while conserving and enhancing natural and recreation resources. Whether you are interested in our forest products, or in leasing or buying our lands for your own outdoor adventures, we believe you will find that we have some of the best forest lands within Alabama.
Hunting Leases
We manage over 60,000 acres and our goal is to grow quality forest products on a saw timber rotation while conserving and enhancing natural and recreation resources.
Alabama is rich in wild game, and our timber management philosophy works to facilitate the recreational value of our lands, making them highly desirable for hunting, fishing and other outdoor activities. Contact us today about leasing or buying some of the best hunting land in Alabama.
Brokerage Services
We are proud to use Delaney Land and Realty, LLC, for all of our real estate brokerage service needs with respect to sales, acquisitions, development and/or leasing of our real estate and timberland properties. Delaney Land & Realty, LLC represents both buyers and sellers in the purchase, sale, lease or exchange of all types of commercial property. Sales services include: – Valuation of the property. – In depth analysis of the property that includes Highest and Best Use as well as financing alternatives. – Access to both buyers and sellers locally, nationally and internationally. – Marketing including developing fliers, email blasts, local MLS listing and signage. – Listing your property on LoopNet, an international real estate web site with over 3 million registered users and 120 million property views per month, as well as having access to over 625,000 national listings. If you would like to take advantage of the wealth of experience and knowledge that Delaney Land and Realty, LLC can provide for you or your business,  
click here…